Fall Furnace Maintenance and Tune-Up Coupon
Do you ever ask yourself: "Are regular furnace maintenance and tune-ups really necessary"  or "Am I paying for a maintenance on my furnace or boiler for nothing" or even "Just how important is a furnace tune-up anyway"?  Marmot Heating, Cooling & Plumbing is here to give you the low-down on HVAC maintenance and why it really does keep your heating and cooling system functioning efficiently.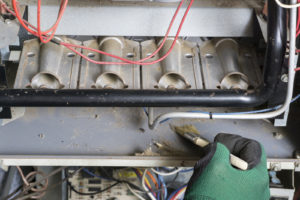 First, having your furnace inspected and maintained by a qualified HVAC technicians in critical.  So many homeowners try to skip this in favor of the quick DIY and end up damaging this very expensive equipment (furnaces are not cheap!), not doing a complete and through job, or entirely missing indicators of needed repairs.  Marmot hires the very best in furnace repair and maintenance technicians so you can rest assured you're getting the best.
Furnace or Boiler Tune-Ups and Maintenance in Boulder
A good reason to hire a heating contractor from Marmot in Boulder for your furnace or boiler tuneup is that they work on many heating units in their career and a good technician will know the intricacies and quirks of most makes and models and can adjust the inspection accordingly to make sure you are covered.  We don't just check off the boxes on a standard "list" without actually doing a complete job!
Furnace manufacturers recommend maintenance.  With such expensive equipment sitting in our homes, that we use and need on a nearly constant basis, we suggest listening to those who built it–when they say it should be done, it probably should be done.  Can you go a great deal of time ignoring it?  Absolutely.  But at the risk of pricey and inconvenient repairs or even replacement as your reward.  If your furnace has some years under it's belt it's an even better idea to have regular tune-ups as this simple process can keep an aging unit running years longer than a neglected one!
Worried about the cost?  Trust us.  You will make the money back and then some.  That which you care for will last.  If you invest in a nice heating unit it would be a waste of money to have that investment break down and need replacement long before it should have.  Properly maintained furnaces and boilers will last!  Heating units that run efficiently use much less energy and your monthly energy bills will be much lower than if that same furnace is struggling to run and therefore sucking much more energy just to keep going.  Much like regular dentist visits will prevent costly fillings or worse, good HVAC maintenance will keep your repair bills in check.
Schedule Your Furnace or Boiler Maintenance Today
Don't wait until you have repair needs or worse, replacement needs.  Don't wait until the weather finally turns very cold and it's more inconvenient to schedule a service call.  Call Marmot Heating, Cooling & Plumbing and have your furnace or boiler maintenance tune-up now!
We will make it easy for you. We have a Fall furnace and maintenance coupon just for you:
Fall Furnace or Boiler Tune Up Coupon